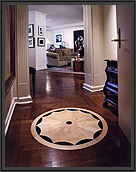 Custom Parquetry and Medallions
We built our reputation on the elegant designs and fine craftsmanship of our Custom Parquet and Medallions.
We work with architects, designers and home owners to develop motifs of appropriate proportion, scale, and species composition.
Incorporating the finest hand-selected material, our distinctive designs enhance any space they occupy.